Friends of Marilee::
Join Marilee as she interviews Michael Losier, author of the
Law of Attraction Book.
Here is the topic:
How to Attract Ideal Clients to
YOUR Practice Using Law of Attraction
A complimentary teleseminar from Marilee in conjunction with the author of the famous Law of Attraction book, Michael Losier! Our way of "passing it on" to you - the wisdom of this Universal Law of Attraction coming right to you live in your own home!

By simply picking up the telephone and dialing a number you can be connected to a world famous expert and author sharing with you, a friend of Marilee's, exciting ways that you can attract what you want in your life.

The theme of this free teleseminar is how to attract more clients and great energy for your practice or business. If you are a nurse, healer, massage therapist, health care professional, spa owner, manager, or worker - you need to be on this call!
Wednesday, July 11, 2007
8:00pm – 8:50 pm Eastern

And Best of All...this teleseminar is complimentary, but you must sign up.
(This teleseminar is limited to the first 250 to sign up!)

Michael Losier is an N.L.P. Practitioner and a Law of Attraction Trainer and Professional Speaker enjoying his life in Victoria, BC, Canada. Michael logs hundreds of hours a year as a radio and TV talk-show guest and is also a frequent keynote speaker and seminar leader for conferences, corporate training sessions and for spiritual centers. Michael assists people so they can understand and practice the art of Deliberate Attraction so they can have more of what they want in their lives.
Law of Attraction
by Michael Losier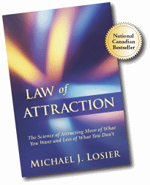 A powerful force is at work in your life right now called the Law of Attraction. At this very moment it's attracting people, customer, situations and relationships into your life. The problem is, not all of those things are the way you you want.
But there's a straightforward way to change that. So, if you're ready to take the next step, join this interactive high-content training seminar and expect to learn GREAT tools and information on how to tap into Law of Attraction deliberately -- the art of Deliberate Attraction. There's a science to doing it and Michael Losier provides you with a simple formula to use. Although the formula is simple and easy to understand, in order to use it most effectively you need to understand the principles that lie behind the Law of Attraction. That's what this Law of Attraction training session does. Michael will guide you through the process of using Law of Attraction that will enable you to tap into the Law of Attraction quickly and easily so you can build an awesome business and have a great life!
Here's some of what's being said about Michael Losier's book, Law of Attraction:
"Michael takes the understanding of the Law of Attraction and presents it crisply and simply, in a way that anyone can hear it and understand it – from someone brand new to the Law of Attraction, to the most experienced. An easy, delightful read!"
Eva Gregory
Author of The Feel Good Guide to Prosperity

"I wish I would have read this book years ago! … Michael tells you in clear terms, step-by-step what you need to do to attract anything your heart desires.

His method is simple and straightforward … achieve positive, desired results in your personal and professional life … (It does not) cost you a lot of money, time or your health.

I love his down to earth and practical approach. No woo-woo in this book."
Zev Saftlas, Author of Motivation That Works,
Founder and Host of EmpoweringMessages.com
(Remember, this is limited to 250)