Healing Oils of the Bibl...
New $13.57!
Best $11.74!
Essential Oils Desk Refe...
New $39.95!
Best $30.95!
Releasing Emotional Patterns with Es...
Best $12.66!
Essential Oils Integrati...
New $34.95!
Best $33.25!
Medical Aromatherapy
New $12.89!
Best $8.95!
Natural Home Health Care...
New $24.95!
Best $19.00!
You Wouldn't Want to Be ...
New $9.95!
Best $5.36!
Healing Oils, Healing Ha...
New $15.61!
Best $15.61!
The Home Spa Lady Store
and
Recommended Products

packed with information from experts
E-Books
The use of essential oils and aromatherapy are gaining in popularity throughout the country and are rapidly becoming one of the favored natural therapies for many things – from stress reduction to chronic disorders.
Spas and spa products have several lines of essential oils, and it's often hard to determine what oils are safe to use for therapeutic reasons, and what oils should be used for fragrance only.
Your home use of essential oils in every day life can improve many areas of your life. Increase of energy, elevation of moods, reduction of allergy symptoms (to chemicals and mold, for example), assistance in sleep, balancing of stomach upset, stress reduction, are some ways to use these safe and natural 'liquid plants'.
The best way to start using essential oils? Listen to teleseminar "How To Use Essential Oils to Pamper Your Body and Soul"

Order Your Oils Here:
www.youngliving.com/marileetolen
E-Books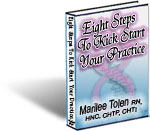 Click here get your copy of the highly acclaimed E-Book: Eight Steps to Kick Start Your Practice

by Marilee Tolen, RN, HNC, CHTP, CHTI