~~~~~~~~~~~~~~~~~~~~~~~~~~~~~~
We had a great tele-seminar with Dr. Nash!
Sorry you missed it but great news! It's available on CD!

Order Your CD Now!
~~~~~~~~~~~~~~~~~~~~~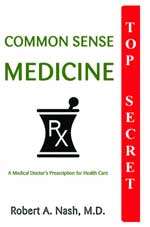 Special Guest: Robert Nash M.D.
author of
Common Sense Medicine
Facilitator:
Marilee Tolen RN, HNC
~~~~~~~~~~~~~~~~~~~~~~~~~~~~
ROBERT A. NASH, M.D.
Common Sense Excerpts:
Medical care should be gentle, compassionate, and caring.
The body is a miraculous creation capable of self healing.
Up to 80% of disease can be prevented.
We need an alternative to the medications given in hospitals that kill over 100,00 people per year.
~~~~~~~~~~~~~~~~~~~~~~~~~~~~~
WHAT YOU WILL LEARN FROM THE CD:
How the "New Medicine" is different and the types of doctors that practice it. . .so you know what to look for when you seek Holistic Medical Care
That the Doctor/Patient relationship is sacred. . . so that you will feel entitled to be more understood by your physician
That Integrative Medicine is an art and science that includes prevention, detoxification, nutrition, and supplementation. . .so you can live a full healthy long life
How chronic back pain and frequent headaches have their roots in sleep disorders. . .so you can have more restorative sleep and more pain free productive days
That metals are implicated in all aspects of aging . . . so you know how to get rid of the metals and live a longer, fuller life

Order Your CD Now!
~~~~~~~~~~~~~~~~~
Robert Nash, M.D.
Chairman of the American Board of Clinical Metal Toxicology
Chairman of the American Board of Integrative Medical Practices
Board Member of the American Society of Integrative Medical Practice
Board Certified in Neurology
Board Certified in Pain Medicine
~~~~~~~~~~~~~~~~~~~~~~~~~~~

Order Your CD Now!
What's a Tele-Seminar?
It's a great way for you to learn right in the comfort of your own home.
Like a giant telephone conference call, there's a special number that you call and put in a code to get into the 'classroom' with others from all around the globe!
You will have the ability to ask questions, or you can stay silent.
The number of seats on the call is limited, so sign up now!