Learn About Holistic Nursing!
~~~~~~~~~
A Quote from Lucia. . .
"When a critical mass of nurses align themselves with healing, the profession as a whole will be transformed. Nursing will then embrace the mission intended by it's founder, Florence Nightingale, and become the discipline that is the bearer of Light in society. Working to create that awareness among nurses, schools, and healthcare organizations is part of the mission of the AHNA*, and one that I am honored to be a part of"
*AHNA = American Holistic Nurses Association
~~~~~~~~~~~~~~~
Replay available
through
Home Spa Lady's
"Inner Circle"

Marilee Tolen RN, HNC, CHTP/I
Host, "Green Tea with Marilee" Show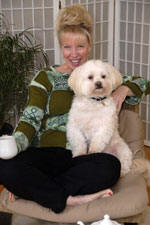 Please. . . . join us for tea! Green Tea, that is!



The Green Tea with Marilee Show presents natural health tips, product reviews, and interviews with alternative health and holistic nutrition experts.
What's a Tele-Seminar / Webcast?
It's a great way for you to learn right in the comfort of your own home.
Like a giant telephone conference call, there's a special number that you call and put in a code to get into the 'classroom' with others from all around the globe!
You will have the ability to ask questions, or you can stay silent.
The number of seats on the call is limited, so sign up now!