<![if !vml]><![endif]>
Dr. Philip Getson and wife *Leisha
*All thermographic studies are performed by Liesha Getson.
LEISHA GETSON is a Board Certified Thermographic Technician who has imaged over 500 patients. She has a Bachelors degree in Parapsychic Sciences and is working toward a Doctorate in Naturopathy. She is a Holistic Health Counselor, a Reiki Master, and a Certified Integrated Energy Therapist. She has studied many alternative approaches to healing which she offers to patients.

~~~~~~~~~~~~~~~~~~~~~~~~~~
Dr. Philip and Leisha Getson operate the Thermagraphic Diagnostic Imaging Center in Marlton, New Jersey.
~~~~~~~~~~~~~~~~~~~~~
You will learn the answers to these questions and more:
Is Thermography covered by insurance?
Should I have a mammogram?
What about Ultrasound and MRI?
Is Thermography costly?
What should I expect for a breast thermogram?
Is thermography an approved procedure?
My doctor does not know much about thermography and isn't sure it is a valid diagnostic tool. How should I respond to this?
Enter your name and email address for the replay to this event for your listening or downloading pleasure!

This replay is extended two days until Monday May 11th at
12 noon eastern
(because of a broken link)

This offer expires Monday, May 11th at 12 noon Eastern

You will receive an email with the link after you put your name and email address in the boxes above.
Want to learn how to access
all of the "Green Tea with Marilee" Shows?
~~~~~~~~~~~~
Marilee Tolen RN, HN-BC
Host, "Green Tea with Marilee" Show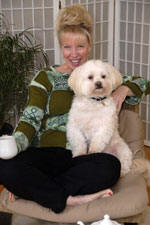 Please. . . . join us for tea! Green Tea, that is!


The "Green Tea with Marilee" Show presents natural health tips, product reviews, and interviews with alternative health and holistic nutrition experts.