Great for nurses and allied health care professionals in business or private practice for themselves!



Pat Bemis RN, CEN
Pat is the author of Emergency Nursing Bible, 4th Edition (a peer-reviewed textbook); Self-Employed RN, 2nd Edition; and Nurse Entrepreneurs, 4th Edition. She developed the classes CEN Review: ACE the CEN; Is Self-Employment Right for You?; and Self-Employment 101.


Replay available
through
Home Spa Lady's
"Inner Circle"
Marilee Tolen RN, HNC, CHTP/I
Host, "Green Tea with Marilee" Show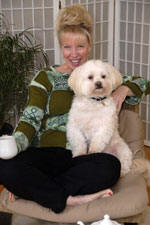 Please. . . . join us for tea! Green Tea, that is!



The Green Tea with Marilee Show presents natural health tips, product reviews, and interviews with alternative health and holistic nutrition experts.