"The key to creative aging resides with you. The time for creative aging is right now, regardless of how young or old you are. To live and age fearlessly call up your courageous spirit. Use creative tools to dive your life and your future"
~Jo Anne White 2008~
On this show Dr. White will cover:
--What Creative Aging is

--Guidelines and tips for successful aging

--How women can enhance their activities

--Healthy attitudes and healthy models for aging

Register Here to Get the Replay
(expires Friday
April 24th at 10 am est!)
Place your name and email address in the boxes below and you will be emailed the link for the replay!
Want to learn how to access
all of the "Green Tea with Marilee" Shows?
~~~~~~~~~~~~
Marilee Tolen RN, HN-BC
Host, "Green Tea with Marilee" Show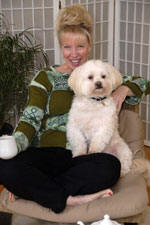 Please. . . . join us for tea! Green Tea, that is!


The "Green Tea with Marilee" Show presents natural health tips, product reviews, and interviews with alternative health and holistic nutrition experts.